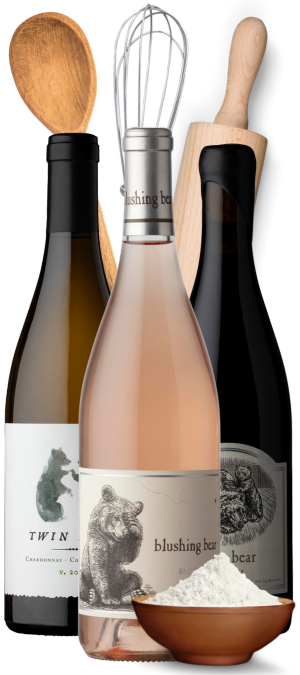 Cooking with Kyle
Grab an apron and join Kyle live from his home kitchen in LA on Thursday, January 25th, for an unforgettable evening of cooking, wine tasting and good cheer. During this two-hour virtual event, you and Kyle will prepare a dinner menu featuring three delicious shared plates, each perfectly paired with a Pursued by Bear wine. Sweet Moments Chef Therese will serve as your guide every step of the way.
Ordering is a Two-Step Process
Order your wines from the link at the bottom of the page. We've curated a selection of three wines ($149) to sample with each dish.
Then order the ingredients ($129, serves 2+) from Sweet Moments here. That's it!
Then save the date for Thursday, January 25, 2024, and plan to join us from your kitchen for a two-hour cooking class via Zoom with Kyle and Therese. We will begin promptly at 4 p.m. PST.
On the Menu
Spinach and Artichoke Pastry Bites paired with Blushing Bear Rosé
Coconut Crusted Shrimp with Pineapple Salsa paired with Twin Bear Chardonnay
Sweet Italian Sausage, Burrata and Giardiniera Flatbread paired with Baby Bear Syrah
Vegetarian options are available. Each meal kit serves 2+. Wine selections serve more ++.